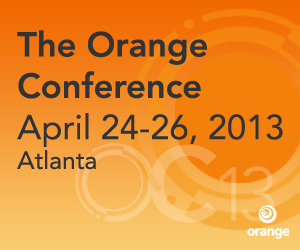 I had the privilege of attending the Orange Conference last week.  I have been interested in checking out this Orange concept before, but have never been willing to shell out the money to check it out at the conference.
The best solution
payday loans
I actually one a free ticket to the conference this year.  This gave me the opportunity to check it out free of charge.
I had several misconceptions about Orange.
First of all I thought Orange was all about their own curriculum. I was wrong.  They do offer very good curriculum for students of all ages, and yes their curriculum follows the concepts of Orange.  This conference was more than just a sales pitch for some lessons.
Secondly I thought that Orange was heavily focused on putting everything back on parents and taking all responsibility away from us as youth workers. Once again, I was wrong.  At the conference we were presented with concepts and ideas of communicating with parents and teaming up with parents, but never did anybody say anything about whose job it was to minister to kids.  I believe they presented this with great skill and understanding of parent, student and pastor relationships.
Lastly I thought that attending this conference would be a mistake because it does not solely focus on Junior High Ministry.  I don't like to attend a conference that I think could be a waste of time.  I was mistaken on this as well.  While the Orange Conference is for Ministry leaders and workers for all ages, I was amazed at how they are so focused on ministry to families.  We sat in Breakout Sessions focused on Junior High Ministry, and then we went to Main Sessions where the speaker couldn't help but talking about this age group as well.  When they weren't talking specifically about Junior High or Middle School they were discussing how families need to be the focal point in ministry.
I absolutely loved this conference, and I would highly suggest you check it out.  The Orange Conference is a place where Children's Minister, Preteen Ministers, Junior High Ministers, Student Ministers, and Adult Ministers alike can gather together to discuss and share in ministry together.
One of my favorite parts about this conference was getting to meet and hang out with several of you who I have met through this website. I think we can see this as an opportunity to rally together and face this challenge of working with Junior High students together.
Thank You Orange for all you do.
If you would like to know more about Orange then follow this link. Orange