New: Easter Games & Object Lessons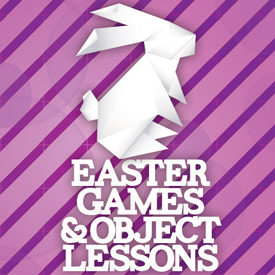 Includes 15 Easter Games & 15 Easter Object Lessons
All specifically designed with junior highers in mind and bundled together in one package.
Object lessons & games are great additions to your event programming and can be added to any upcoming lesson, event, small group time, mid-week service, message, etc. Perfect to fill in the gaps of your Easter programming!
All the object lessons are related to Easter items and are powerful visuals to drive home Biblical points.
All the crazy, fun games included are related to Easter themes and are "just for fun" activities that setup Easter messages. Learn More

Get a FREE four week junior high teaching series (Encounter) by entering your email below, and clicking the "Get Instant Access" button. You will get the series automatically emailed to you (so make sure you entered it correctly).
The Encounter series ($25 value) takes junior highers on a journey to discover people who encountered Jesus in the New Testament. Students will walk away with ways they can experience Jesus in their everyday lives. You can get Encounter for FREE!
Simply enter your email address below, click the "Get Instant Access" button, and we'll send you a link to download the Encounter series.

ABOUT OUR JUNIOR HIGH SERIES:
Looking for cool junior high ministry teaching series? Look no further! You no longer have to adapt lessons written for high school students and make them applicable to middle schoolers. No more building lessons from scratch, which  helps you focus on what's most important – building relationships with students.  You now have a go to source for everything junior high. All our teaching series are Biblical, relevant, creative and fun!
EACH LESSON INCLUDES:
Downloadable & editable lessons in Word Document and PDF. Edit as needed and easily share with your volunteers.
Complete PowerPoint slides.
Full series artwork that you can use for promotional purposes (flyer, web banner, handout, etc).
THE FORMAT: 
Opening game (because junior highers have tons of energy)
Creative, relevant teaching
Small group discussion questions
Help us spread the word about JuniorHighMinistry.org. Share this page on Facebook or send out a Tweet about us.